The 15 best laptops of 2017
Despite the deluge of choices, finding the best laptop to suit your needs doesn't have to be a chore. To help you complete your laptop shopping checklist, we've compiled a definitive list of the 15 top laptops you can spend your money on today.
1. Dell XPS 13
The Dell XPS 13 is the best laptop money can buy
CPU: Intel Core i3 – i7 | Graphics: Intel HD Graphics 620 | Screen: 13.3-inch FHD (1,920 x 1,080) – QHD+ (3,200 x 1,800) | Storage: 128GB – 512GB SSD
Faster than ever
Same long-lasting battery
Still poor webcam position
No Windows Hello
With the 2016 model, the Dell XPS 13 reigns supreme as the best laptop you can buy today. Thin and light with a battery life that exceeds 7 hours, according to our movie test, Dell's flagship laptop is the posterchild for Ultrabooks. Once again, too, Dell has managed to squeeze a 13.3-inch screen into an 11-inch frame, proving the nigh-borderless InfinityEdge display to be a design marvel. Outfitted with Intel's latest Kaby Lake processors and lightning-fast storage and memory, the Dell XPS 13 is dressed to impress with welcome addition of a Rose Gold color option as well. It should comes as no surprise, then, that we still rank it as the best Ultrabook and best laptop overall.
2. Asus ZenBook UX305
Better than the MacBook and at a fraction of the price
CPU: Intel Core Intel Core M3-6Y30 – M7-6Y75 | Graphics: Intel HD Graphics 515 | RAM: 8GB | Screen: 13.3-inch, FHD (1,920 x 1,080) – QHD+ (3200 x 1800) IPS display | Storage: 256GB – 512GB SSD
Incredibly thin and light
Vibrant, glare-free screen
Weak sauce graphics
Tinny speakers
If you're looking for a Windows alternative to Apple's latest rose-tinted MacBook, the Asus ZenBook UX305 might be more your speed. Though it looks like a Cupertino design from every angle, it's actually superior to Apple's creations in almost every way. From its purple-tinged aluminum design to its sharp display and hearty helping of built-in storage space, the UX305 puts Windows back in style, fanless design, long battery life and all. And, while the low-cost is enticing, if you're shopping for something with a bit more horsepower (not to mention an even more compact design), look no further than the Asus ZenBook 3.
3. Razer Blade Stealth
The gaming Ultrabook you've been waiting for
CPU: Intel Core i7 | Graphics: Intel HD Graphics 620 | RAM: 8GB – 16GB | Screen: 12.5-inch, QHD+ (2,560 x 1,440) – 4K (3,840 x 2,160) IGZO LED-backlit multi-touch | Storage: 128GB – 1TB SSD
Captivating, colorful display
Greatly improved battery life
Cumbersome charger
Keyboard needs more travel
The Razer Blade Stealth is an exceptional Ultrabook hindered only by its efforts in trying to be a gaming laptop. Price-wise, it has the upperhand against key competitors, but don't be fooled – with an Intel Kaby Lake Core i7 processor, the latest Blade Stealth is more powerful and power-efficient than ever. Better yet, this laptop can change the lighting of each key on its keyboard, with more than 16.8 million colors to choose from. Plus, if you mind the integrated graphics from Intel, you can attach a (albeit rather pricey) Razer Core external GPU enclosure for boosted performance when stationary.
4. Asus Chromebook Flip
The winning premium Chromebook formula
CPU: Intel Pentium – Core m3 | Graphics: Intel HD Graphics 515 | RAM: 4GB | Screen: 12.5-inch, FHD (1,920 x 1,080) LED backlit anti-glare | Storage: 32GB – 64GB eMMC
Elegant tablet mode
Gorgeous, vivid screen
No out of box Android app support
Middling speakers
When Asus first came out with the Chromebook Flip as a "premium" offering, we were skeptical. Premium Chromebooks had been done before with little to no fanfare. After all, who would want to spend over a grand on a laptop that's limited to the Chrome browser and a handful of Android apps? This concept becomes more enticing when you cut the price in half, as Asus has skillfully accomplished with the latest Chromebook Flip. Stacked with a gorgeous design, a keyboard that feels rich to the touch and even a 2-in-1 form factor, the Asus Chromebook Flip proves that Chromebooks can be premium without going overboard.
5. HP Spectre x360
A well-rounded 2-in-1 that exceeds expectations
CPU: Intel Core i5 – i7 | Graphics: Intel HD Graphics 620 | RAM: 8GB – 16GB | Screen: 13.3-inch FHD 1,920 x 1,080 – UHD 3,840 x 2,160 IPS multi-touch | Storage: 256GB – 1TB SSD
Ultra-thin and light styling
Long-lasting and quick-charging battery
Lacks SD card reader
Especially thick bottom bezel
The 13.3-inch version of the HP Spectre x360 may not boast the SD card slot of its 15.6-inch sibling, but what it does pack is virtually identical performance in a more compact shell. In fact, it's 13% thinner and 11% lighter than the previous convertible laptop of the same name. For the price, it's tough to beat, what with a 4K screen and a transformative design for the price of the entry-level MacBook Pro.
Then there's the keyboard, which went from 1.5mm to 1.3mm of travel this time and still feels significantly better when compared to previous HP Spectre x360 models. What's more, despite having a lengthy battery life of 8 hours and 45 minutes, according to our own movie test, the HP Spectre x360 still manages to weigh no more than a mere 2.85 pounds. Just when we thought there wasn't a laptop that's cutting-edge in every category, the HP Spectre x360 proves us wrong.
6. Samsung Notebook 7 Spin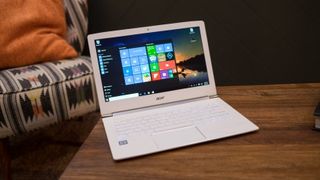 Premium build, affordable price point
CPU: 2.5GHz Intel Core i7-6500U | Graphics: Nvidia GeForce 940MX (2GB DDR3L); Intel HD Graphics 520 | RAM: 12GB – 16GB | Screen: 15.6-inch Full HD (1,920 x 1,080) LED with touch panel | Storage: 1 TB HDD – 1TB HDD; 128GB SSD
Excellent value
HDR display
Hefty weight
Graphics narrowly miss the mark
If you've ever wanted a MacBook Pro without selling a kidney to afford it, the Samsung Notebook 7 Spin not only delivers the style and glitz of Apple's professional-level laptops, but it even adds a touchscreen to the mix for an approachable starting price. For a hefty 2-in-1 with a Core i7 CPU, 12GB of RAM and even a discrete Nvidia GPU, the Samsung Notebook 7 provides top of the line specs considering its value. But why stop there?
Samsung even went as far as to include an HDR display despite offering only a 1080p resolution. Though not many services actually support the technology (yet), some argue that it's more essential than a higher resolution anyway. Deeper blacks, more vibrant color – the works.
7. Acer Aspire S 13
Proof that the MacBook Air is getting old
CPU: Intel Core i3 – i7 | Graphics: Intel HD Graphics 520 – 620 | RAM: 4GB – 8GB | Screen: 13.3-inch, FHD (1,920 x 1,080) anti-glare touchscreen IPS | Storage: 128GB – 512GB SSD
High performance and decent battery life
Low price
Exterior feels a little cheap
Even though arguably the MacBook Air itself has expired, the clones seem to never cease production. Among them is the Acer Aspire S 13, an affordable alternative to Apple's entry-level laptop that even outdoes it in some ways. It's not quite as thin and light as many prominently featured Ultrabooks, nor is it particularly expensive looking. However, the Acer Aspire S 13 does pack quite a punch when it comes to performance. USB Type-C and a full HD display put it just over the edge in beating out the 13-inch MacBook Air, and for a much lower cost at that. Despite the efficacy of the CPU, the Acer Aspire S 13 even manages a battery life of 7 hours and 49 minutes, according to our movie test results.
8. Samsung Notebook 9
Greatness doesn't need to break the bank
CPU: 2.3GHz Intel Core i5-6200U | Graphics: Intel HD Graphics 520 | RAM: 8GB | Screen: 13.3-inch, FHD (1,920 x 1,080) LED anti-reflective display | Storage: 256GB
Competitively priced
Nearly perfect display
Micro-sized video ports
Short battery life
The Samsung Notebook 9 may not be the flashiest title on the list, but at $949 it does offer more bang for the buck than you'll see in most laptops. That's because unlike much of the competition now, it's an Ultrabook with a full-fledged Core i5 Skylake processor. That alone makes it effectively more powerful than a MacBook Air with a better screen resolution and price point to boot. On the downside, it's the battery life that takes a hit as a result.
9. Surface Book
The ultimate Windows 10 hybrid laptop
CPU: Intel Core i5 – i7 | Graphics: Intel HD graphics 520 – Nvidia GeForce graphics | RAM: 8GB – 16GB | Screen: 13.5-inch, 3,000 x 2,000 PixelSense Display | Storage: 128GB – 256GB PCIe3.0 SSD
Futuristic design
Seamless tablet separation
Battery life falls well below promises
Major updates are still in tow
If you're looking for a more traditional notebook, Microsoft knocked it out of the park with its first laptop ever, the Surface Book. Though it has a peculiar 3:2 aspect ratio and 13.5-inch screen that's outside of the norm for most Ultrabooks, it's one of the best designed convertible laptops ever created. As a standalone tablet, otherwise known as the Clipboard, it's the most powerful and thinnest Windows 10 computers in the world. Then docking the screen into the keyboard base affords it even more performance by way of a discrete GPU.
10. HP Spectre x360 15
Thinner, sexier and faster than ever
CPU: Intel Core i7 | Graphics: Nvidia GeForce 940MX | RAM: 16GB | Screen: 15.6-inch, UHD (3,840 x 2,160) IPS UWVA-backlit multi-touch | Storage: 512GB SSD
Flawless keyboard
Spectacular design
Comes with stylus
Less-than-stellar battery life
Trackpad gets in the way of typing
HP nailed its 2016 revision to the Spectre x360, and it's done it again with the 2017 version that comes with a host of new modern features for the versatile laptop/tablet hybrid. It may not be as small as other Ultrabooks, but the HP Spectre x360 15 still looks beautiful and feels fantastic to use. It also keeps the 360-degree hinge, letting you flip the device so you can use it comfortably no matter what your needs are. So, you get amazing build quality and design and some of the best hardware currently powering modern laptops. What's not to love?
11. MacBook
CPU: Intel Core m3 – m5 | Graphics: Intel HD Graphics 515 | RAM: 8GB | Screen: 12-inch, 2304 x 1,440 LED-backlit IPS display | Storage: 256GB – 512GB SSD
Terrific design
Surprisingly good speakers
Processor is still slow
High cost for low performance
Apple has updated its most attractive laptop yet with an Intel Skylake Core M processor. Still clocking in at 1.1GHz to start, the 2016 MacBook aims at those who don't need power as much as portability and pizazz. The stylish, aluminum unibody design and the Retina display are all back, too. Aside from a 3.5mm headphone jack, the only connector port remains USB-C, though the reversible interface has gained traction since last year's debut. If you're willing to lug cable adapters and take a performance hit in the name of stellar design, the brand new, appetizing Rose Gold finish might be just for you.
12. Asus ZenBook Flip UX360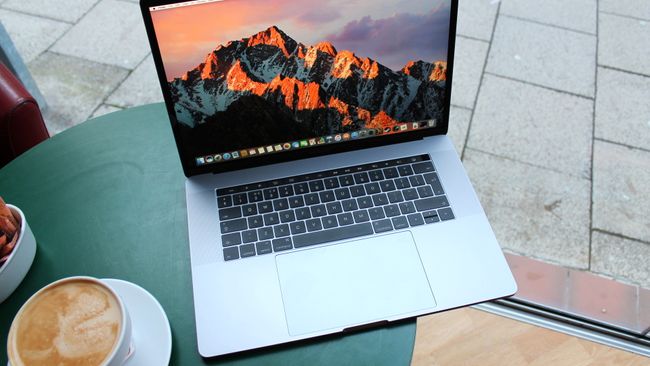 MacBook speeds with more ports for fewer dollars
CPU: Intel Core m3 – Core m7 | Graphics: Intel HD Graphics 515 | RAM: 4GB | Screen: 13.3-inch, FHD (1,920 x 1,080) LED-backlit glare touchscreen | Storage: 128GB – 512GB SSD
All-day battery life
Roomy keyboard and trackpad
Lacking multitasking performance
Tons of screen glare
When it comes to crafting an affordable Windows laptop with a premium feel, Asus takes the cake. The Asus ZenBook Flip UX360 in particular combines a mid-range price tag with a convertible form factor, a full-size trackpad and keyboard and an extensive arrangement of ports. These include USB-C, micro HDMI, micro SDXC and, yes, standard USB ports and even a 3.5mm headphone jack. In the pre-2015 MacBook era, these features would be expected, but nowadays, they're an anomaly given the minimalistic efforts of newer laptops. Don't go in expecting the ZenBook Flip UX360 to be old-fashioned, however, because as the naming suggests, this is a notebook that prides itself on its ability to shapeshift 360 degrees.
13. MacBook Pro (15-inch, Late 2016)
Bigger isn't always better, but for the MacBook Pro it is
CPU: Intel Core i7 | Graphics: AMD Radeon Pro 450 – 460 | RAM: 16GB | Screen: 15.4-inch Retina (2,880 x 1,800) LED-backlit IPS | Storage: 256GB – 2TB PCIe SSD
 Luminous display
Loud and clear speakers
Touch Bar not fully-realized
Trackpad feels too big
For media production, the 15-inch MacBook Pro has been the go-to for many years now. Slight design changes have annually accompanied CPU upgrades, making every new MacBook Pro that comes out a subtle rewrite of its predecessor. This year, however, Apple has made changes – for better or worse – that will dramatically change how the MacBook Pro is used altogether. To Apple outsiders, the decision to omit all the standard USB ports and SD slots in favor of four USB-C connections is baffling. For the fans, however, it's a strategic means of future-proofing. Regardless of how you feel about the concessions, the MacBook Pro's most alluring invention is the Touch Bar, which replaces the function keys and, in turn, introduces a layer of functionality only possible with the latest MacBook Pro.
14. Lenovo Yoga 910
An avant-garde take on a contemporary classic
CPU: Intel Core i7 | Graphics: Intel HD Graphics 620 | RAM: 8GB – 16GB | Screen: 13.9-inch FHD 1,920 x 1,080 IPS multi-touch | Storage: 512GB PCIe SSD
Substantially larger screen
Edgier looks
Heats up (and gets loud) fast
Disappointing battery life
Unlike many iterative notebook upgrades, the Lenovo Yoga 910 feels like a completely different laptop than its predecessor, the Yoga 900. Now embellished with edgier looks (literally, as the edges are far more defined) and an all-aluminum chassis, the Yoga 910 is quite the stunner. That's without going on to detail its superior, 13.9-inch display, which is 0.6 inches bigger than the Yoga 900. The real feat, however, is that the Yoga 910 retains a similarly sized shell, not to mention a slimmer body, despite the added screen real estate. The banging set of speakers are merely a bonus.
15. HP Chromebook 14
A fun, bright and affordable Chromebook
CPU: 1.83GHz Intel Celeron N2940 processor | Graphics: Intel HD Graphics | RAM: 4GB DDR3 | Screen: 14-inch 1,920 x 1,080 display | Storage: 16GB eMMC
Excellent keyboard and trackpad
Crisp, vivid screen
Not as powerful as some higher end notebooks
Average battery life
With a 14-inch screen, this HP Chromebook isn't the smallest or lightest Chrome OS device out there. However, it strikes a good balance between ample screen space and portability. A top-notch keyboard and trackpad, coupled with a great screen, makes the Chromebook 14 a joy to write and browse the web on for very little money at all. On the other hand, if you're willing to shell out a bit more for an aluminum design and upgraded performance, the smaller HP Chromebook 13 might be more your style.